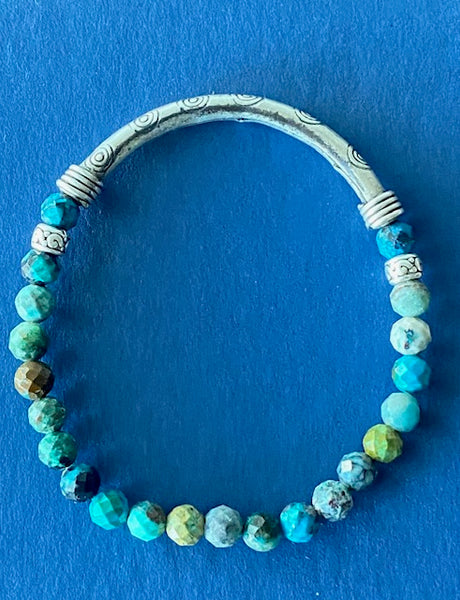 Chrysocolla Gemstone Bracelet 6mm
Free shipping!
Chrysocolla and Thai Silver Stretch Bracelet
Handmade with Love by Sanandra
Dainty Exquisite faceted Rondelle 6mm  Chrysocolla Beads and *Thai Silver Tube Bead from the mountainous city of Chiang Mai, a local village where handcrafted silver beads and pendants are made. Time has stood still in these villages! Each bead is handmade by the Karen Hill Tribe people using traditional ancient methods passed down for generations. Their kind and gentle spirit makes their silver extra special. Each piece is individually crafted; therefore, the designs and weights will vary slightly reflecting its unique nature. The silver content of each piece ranges from 95%-99% as compared to sterling silver, which is 92.5% pure.
High Quality * Simple Beauty
Represents Tranquility, Peace, Intuition, Patience and Unconditional Love. Supports the Heart Chakra.
It is known as a healing stone among Native American cultures where it has been used to strengthen the body's resistance to illness and emotional duress.
Standard Women's Size is 7 inches ~ Please write us a note in your order if smaller or larger size is needed. If you're not sure of your size, measure your wrist exactly with a measuring tape and include this in your order notes.
All Jewelry items are Custom Handmade to order with Love by Sanandra, especially for You, and are non refundable.
If you have questions send us an email SeaChi@SeaChi.com